KIT BUILDING GUIDE



PREPARATION OF THE CASTINGS FOR PAINTING

SPENDING TIME ON THE PREPARTION IS OFTEN THE KEY TO GETTING A GOOD PAINT
FINISH WHICH IS CRUCIAL TO THE FINAL OVERALL FINISH OF THE MODEL

HOW DO WE GO ABOUT THIS?

1. THE FIRST STEP IS TO FAMILIARISE OURSELVES WITH THE KIT, HOPEFULLY IT WILL
COME WITH A FULL INSTRUCTION SHEET INCLUDING PARTS LIST. CHECK THROUGH THE KIT
ENSURING ALL THE PARTS ARE PRESENT, OMISSIONS CAN HAPPEN EVEN WITH THE MOST
DILIGENT MANUFACTURER, IF YOU HAVE BOUGHT THE KIT FROM A SHOP IT MAY HAVE BEEN
SHOWN TO A PREVIOUS POTENTIAL CUSTOMER AND A PART DROPPED OR LOST
IDENTIFY THE PARTS AND WHERE THEY FIT.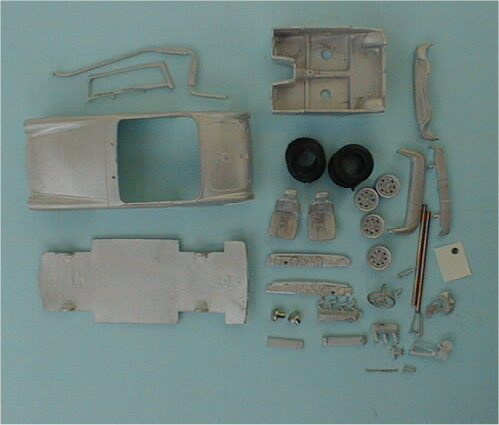 2. DUE TO THE WAY CASTINGS ARE PRODUCED THEY WILL HAVE MOULD LINES, SOME MAY HAVE
SMALL DEFECTS, SO ALL THE PARTS NEED TO BE CLEANED UP REMOVING THE MOULD LINES
WE FIND THAT A MODELLERS NEEDLE FILE IS VERY GOOD FOR DOING THIS. DON'T ATTACK
THE CASTING BE GENTLE AND ALLOW THE FILE TO DO THE WORK.

3. WHEN YOU HAVE REMOVED ALL THE MOULD LINES YOU WILL MOST PROBABLY HAVE TO DRILL
OUT THE HOLES FOR HANDLES, LIGHTS, BUMPERS ETC TO LOCATE INTO, USE A FINE DRILL BIT
WHICH GIVES A HOLE THE PART WILL FIT INTO COMFORTABLY, BEARING IN MIND THAT
ONCE YOU COMMENCE ASSEMBLY THE PARTS WOULD HAVE BEEN PAINTED, HOLES WILL GET
SMALLLER AND THE LOCATION PINS BIGGER.

4. TEST ALL THE PARTS FIT TOGETHER COMFORTABLY, BETTER TO HAVE A LOOSE FIT
AT THIS STAGE THAN TO FIND YOU HAVE TO FILE AND DRILL WHEN BUILDING UP AND
DAMAGE PAINTWORK.

5. WHEN ALL PARTS FIT TOGETHER WELL WE RECOMMEND RUBBING THE BODY SHELL DOWN
WITH WET AND DRY PAPER, WE FIND THAT DIPPING THIS INTO A WEAK SOLUTION OF WATER
AND WASHING UP DETERGENT ASSISTS IN GETTING A GOOD FINISH. WE WOULD NORMALLY START
OFF WITH A COARSER GRADE SUCH AS 400 GRADE, BEING CAREFUL NOT TO REMOVE ANY FINE
LINES, THIS IS ESPECIALLY USEFUL IF THE SURFACE FINISH ISN'T TOO GOOD AS IT WILL
REMOVE TAKE A THIN LAYER OF METAL. ONCE YOU HAVE BEEN OVER THE BODY WITH THE
COARSE GRADE THEN GO OVER IT AGAIN WITH 1200 GRADE, THIS WILL GIVE YOU A VERY SMOOTH
SURFACE, TIME SPENT NOW WILL HELP GIVE YOU A BETTER PAINT FINISH. WASH ALL PARTS
IN WARM WATER AND ALLOW TO DRY THOROUGHLY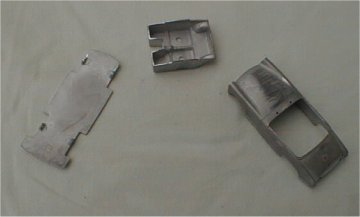 6. ALL PARTS SHOULD BE PAINTED PRIOR TO ASSEMBLY, PAINTING THE BODYSHELL IS COVERED
IN THE NEXT PART OF THIS GUIDE. WE USE THE TINLETS OF MODELLING PAINT AVAILABLE FROM
ANY GOOD HOBBY STORE FOR THE INTERIOR PARTS AND LIGHTS ETC. THESE PAINTS NORMALLY
DRY WITHIN A FEW HOURS BUT IT IS OFTEN BEST TO PAINT THE PARTS 24 HOURS BEFORE
YOU START ASSEMBLY TO ENSURE THEY ARE THOROUGHLY DRY.



2 PAINTING OF THE MODEL

A GOOD PAINT FINISH IS ESSENTIAL FOR A MODEL, WHICH TO LOOK GOOD
WITH BODIES IT DOESN'T FINISH WITH SPRAYING THE MODEL BUT INVOLVES
RUBBING DOWN AND POLISHING

WE HAVE CLEANED OUR MODEL UP AND WE ARE NOW READY TO BEGIN PAINTING

1 THE MODEL SHOULD FIRST BE PRIMED BEFORE FINISHING IN THE COLOUR OF YOUR
CHOICE. WE RECOMMEND THE USE OF AEROSOLS (SPRAY CAN) FOR THE AMATEUR AND
FIND THEY WILL PRODUCE EXCELLENT RESULTS, IF YOU HAVE ACCESS TO A SPRAY GUN THIS
COULD BE USED INSTEAD AND IS IDEAL IF YOU HAVE HAD YOUR REAL CAR RE-SRAYED
AND HAVE SOME OF THE ORIGINAL PAINT LEFT OVER. WE USE CELLULOSE PAINTS ALTHOUGH
ACRYLIC PAINTS CAN ALSO BE USED. IF YOU ARE SPRAYING A RESIN MODEL A PLASTIC PRIMER
SHOULD BE USED

2 WE FIND THE BEST RESULTS ARE OBTAINED WHEN SPRAYING SOMEWHERE WARM WITH LOW
HUMIDITY WHICH IS WELL VENTILATED. A GARDEN SHED WITH A SMALL HEATER IS IDEAL
WHEN SPRAYING YOU SHOULD WEAR A MASK TO PREVENT INHALATION OF FUMES

3 A LARGE CARDBOARD CARTON WITH ONE SIDE CUT OUT MAKES AN EXCELLENT SPRAY BOOTH

4 BEFORE YOU COMMENCE SPRAYING ALLOW THE BODY SHELL TO WARM UP BY LEAVING IT IN THE
SPRAYING AREA

5 WHEN SPRAYING START BEYOND MODEL AND STOP WHEN YOU HAVE PASSED THE END OF THE
MODEL,THIS GIVES A MORE EVEN COAT OF PAINT WITH NO 'SPLATTER' WHEN THE PAINT FIRST HITS
THE MODEL - WHICH COULD CAUSE PAINT RUNS

6 FIRST SPRAY THE MODEL UPSIDE DOWN, IF YOU GLUE 4 PINS ON A PIECE OF CARD, THE MODEL
CAN BE SAT ON THESE AND WON'T THEN STICK TO THE WORK AREA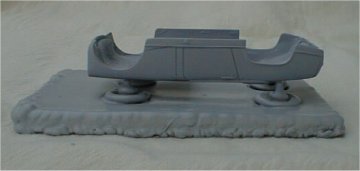 7 SPRAY ALL FOUR SIDES OF THE MODEL TURNING THE MODEL GENTLY SO YOU CAN EASILY REACH
EACH SIDE IF YOU HAVE A SMALL TURNTABLE THIS DOES MAKE TURNING THE MODEL FAR SAFER
GIVING LIGHT COATS OF PAINT IS BEST AND REDUCES THE RISK OF PAINT RUNS

8 WHEN THE MODEL IS DRY TURN IT THE RIGHT WAY UP AND SIT IT ON A SMALL BLOCK
OF WOOD AND SPRAY AS IN STEP 7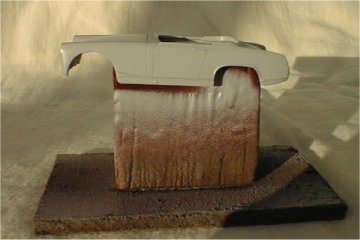 9 CHECK YOUR PRIMED MODEL FOR ANY DEFECTS OR PAINT RUNS. ANY DEFECTS CAN BE FILLED
USING A GOOD QUALITY AUTO FILLER BEFORE RUBBING DOWN USING FINE WET AND DRY PAPER
AS YOU DID IN PREPARING THE MODEL, THEN RE-PRIME THE MODEL. PAINT RUNS CAN REMOVED
AGAIN BY RUBBING DOWN WITH FINE WET AND DRY PAPER. ANY HANDLES CHROME TRIMS ETC
SHOULD BE SCRAPPED WITH A SHARP KNIFE

10 ONCE YOU ARE HAPPY WITH THE FINISH OF YOUR PRIMED BODY, SPRAYING WITH ITS FINAL
COLOUR CAN BE DONE. REPEAT STEPS 7 & 8 BUT USING YOUR COLOUR CHOICE OF FINISH, WE
RECOMMEND THREE LIGHT COATS OF PAINT EACH WAY UP ENSURING PAINT IS DRY BETWEEN
COATS

11 POLISH MODEL CAREFULLY USING A QUALITY AUTO POLISH ON A SOFT CLOTH, IF THE
PAINT FINISH HAS AN 'ORANGE PEEL' EFFECT IT CAN BE CAREFULLY RUBBED DOWN USING THE 1200
GRADE WET AND DRY PAPER AS BEFORE, THEN RE-POLISHING. IT MAY BE NECESSARY TO GIVE
ANOTHER COAT OF PAINT, MAKE SURE THERE IS NO POLISH LEFT ON THE MODEL, IT IS A GOOD
IDEA TO HAVE TWO CLOTHS ONE FOR APPLYING THE POLISH AND THE OTHER FOR POLISHING,
AN OLD SOFTTOOTHBRUSH IS IDEAL FOR REMOVING POLISH FROM DOOR LINES ETC.

12 IF YOU DECIDE THAT THE PAINT FINISH YOU OBTAIN IS NOT TO YOUR LIKING, THEN
THE MODEL CAN BE STRIPPED BACK TO ITS BARE METAL USEING CELLULOSE THINNER
IF THE MODEL IS RESIN BE VERY CAREFUL DOING THIS AS THE SURFACE FINISH OF THE
RESIN CAN BE AFFECTED

13 CAREFULLY SCRAPE DOOR HANDLES TRIMS ETC WITH A SHARP KNIFE, THE PAINT SHOULD
COME OFF FAIRLY CLEANLY AS THERE IS NO PRIMER BELOW.



3 ASSEMBLING YOUR MODEL

YOU NOW HAVE ALL THE KIT PARTS PAINTED UP AND ARE READY TO BEGIN BUILDING THE MODEL UP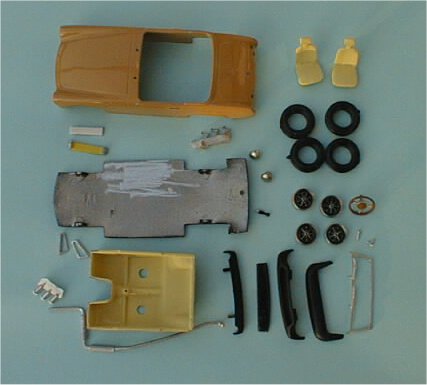 TIP TO GET THE SPOKES ON THE WHEELS LOOKING POLISHED, PAINT THEM MATT BLACK THEN RUN
OVER THEM WITH A SUEDE BRUSH, THIS WILL TAKE THE PAINT OFF THE RAISED 'CHROME' TRIM

1 A TWO PART EPOXY RESIN IS RECOMMENDED FOR STICKING THE MODEL TOGETHER, THIS HAS A
SETTING TIME OF APPROXIMATELY 5 MINUTES. TO MIX GLUE WE SQUEEZE SMALL EQUAL AMOUNTS
OF RESIN AND HARDENER ONTO A PIECE OF CARD AND MIX THOROUGHLY USING A STRAIGHTENED
PAPER CLIP (HI TECH !) SOMETIMES YOU WILL GET TRACESOF GLUE ON YOUR MODEL THESE CAN
BE REMOVED USING COTTON WOOL DIPPED IN WHITE SPIRIT OR SIMILAR SOLVENT

2 FIT TYRES ONTO WHEELS, INSERT AXLES INTO LOCATION HOLES, LOCATE WHEELS ONTO AXLES,
YOU MAY HAVE TO TRIM THE AXLES TO LENGTH, REMOVE WHEELS AND THEN APPLY GLUE TO THE
AXLE ENDS AND RE FIX WHEELS, ENSURING THEY ARE UPRIGHT AND THAT THE BASEPLATE SITS
LEVEL.

3 ONTO THE INTERIOR OF THE MODEL GLUE THE WINDSCREEN WINDERS (YOU MAY FIND A PAIR
OF TWEEZERS HELPFUL FOR GRIPPING SMALL PARTS) THEN ADD GEAR LEVER AND SEATS TO
COMPLETE INTERIOR.

4 ONTO BODYSHELL GLUE BOOT CATCH, PETROL CAP, BRAKE LIGHTS, WHEN SET ADD HEADLIGHTS
FOLLOWED BY FRONT BUMPER THEN REAR BUMPER. ADD DASHBOARD TO COCKPIT THEN STEERING
WHEEL WHEN SET.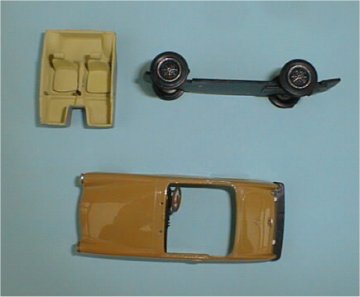 5 PLACE INTERIOR INSIDE BODYSHELL, TRAPING IN PLACE BY BASEPLATE WHICH IS THEN
GLUED TO INSIDE OF BODY ENSURING MODEL SITS LEVEL AND DOESN'T WOBBLE.

6 IF YOU ARE PUTTING A REGISTRATION NUMBER ON THE MODEL CUT THE REGISTRATION DECALS
OUT FROM THEIR SHEET, PLACE IN A SMALL DISH OF LUKEWARM WATER UNTIL THEY SLIDE OFF
THEIR BACKING POSITION ON THE NUMBER PLATE AND DAB DRY, REPEAT FOR EACH CHARACTER.
WHEN COMPLETE GO OVER WITH VARNISH TO SEAL IN PLACE.

7 ADD NUMBER PLATES TO BUMPERS, WHEN SET ADD EXHAUST TO BASEPLATE

8 CUT PERSPEX VACFORM TO SHAPE AND ADD TO WINDSCREEN FRAME AND QUARTER LIGHTS,
WHEN SET ADD WINDSCREEN TO BODYSHELL FOLLOWED BY QUARTERLIGHTS TO ENSURE WINDSCREEN
SITS AT THE CORRECT ANGLE. ADD TONNEAU COVER AT THE SAME TIME

9 CHECK MODEL FOR ANY GLUE TRACES AND REMOVE AS DESCRIBED IN 1. TAKE THE MG LOGO
DECAL AND PLACE IN LUKEWARM WATER, WHEN IT SLIDES FROM ITS BACKING PAPER PLACE ON
BOOT LID AND DAB DRY

10 PAINT FRONT AND REAR LIGHT UNITS AND ALSO VINYL TRIM ALONG THE BOTTOM OF THE
SIDES OF THE MODEL

11 HOPEFULLY YOUR MODEL IS NOW COMPLETE AND YOU ARE HAPPY WITH YOUR RESULTS AND
THE MODEL IS READY TO BE DISPLAYED